TEAM MIDLAND RACING - Tour of the Tracks 2008
During 2008, Team Midland will be undertaking a "Tour of the Tracks". This involves separte sessions at Calshot, Newport and Manchester during the season, and plans are afoot for a 24-hour Trackathon at Calshot during November to raise money for Children in Need.
Here's the schedule:-
Calshot
Saturday 12th April. 14:00 - 17:00
Newport
Sunday 8th June. 12:00 - 15:00
Manchester
Sunday 31st August. 14:00 - 16:00
Calshot
The big one. 24 hours from 22:00 on Thursday 13th Nov though to 22:00 on Fri 14th. The gaffer's cunning plan is for half a dozen team of four to whizz Pudsey Bear around the track in one hour relays.

Costs will be about £25 per person, plus your accommodation and a day off work.

This has never been done before so here is your chance to create a bit a history and risk being on prime time TV.
Stage 1: Calshot Velodrome
We started the Tour back in April with 10 riders under the watchful eye of Harry Jackson .
Mike found his first taste of Track Riding to be very unsettling while Arthur suffered a severe case of the Calshot bends !
This was the first time we rode with 3 new friends Craig Weston, Paul Stewart and Ray Gregory.
Three guys who I'm sure we will ride will again in the near future Paul completed the Tour and Ray joined at the next stage in South Wales. Glad to have you along guys.
The Calshot stage produced an income of £200 and we decided that, as the track hire had been paid out of last years club income, £200 could be added to the MS Society Appeal .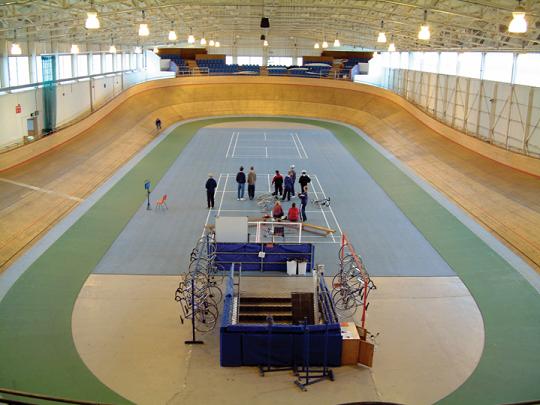 Stage 2: Newport Velodrome
Here we had 19 riders involved and the MS Society of South Wales met us in the track centre. The picture show 3 TM riders trying to get back to the lead group in the scratch race. The session was coached by Steve Bennicci ( remember that name ) and we certainly rode our hearts out on this one.
We were joined again by Paul Stewart and Ray Gregory, and this time a new face appeared Mike Thelwel from Evesham .
It was a tough 3 hours but what a day and when the hammer went down we found out why Keith Reynolds was a top home based professional.
At this Stage, with 19 riders on the track and the MS Society watching, we raised a further £270 towards the appeal .
Special thanks should also go to Jeff B. who worked very hard behind the scenes to get us some publicity in the South Wales Papers. Jeff was the guy in the motorised wheel chair.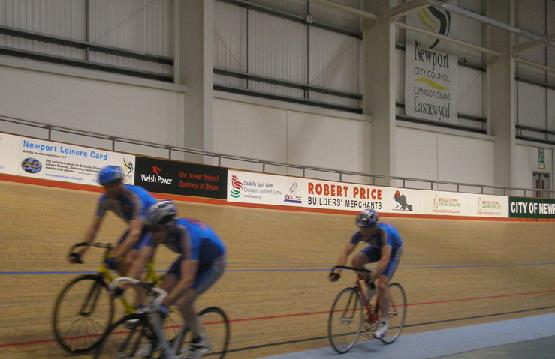 Stage 3: Manchester
Perhaps it was the pull of the Manchester Cycling Holy of Holys but we got 24 riders on track this time .
Incredibly Paul Stewart from Bournemouth Rode this one too Fantastic - why you donít join Team Midland you join in and get sort of adopted (you deserved your Polo Shirt Paul )
Perhaps it was the thought of riding on the track where records get broken and where the world's best have raced but we seemed to be pushing that bit harder .
Steff came along to time the flying laps and Gary showed that despite his problems this year he is still flying .
This Stage of the Tour contributed £300 to the overall appeal so with Calshot and Newport and a little from the slush fund we raised £800 for the MS Society .
At this stage I would like to offer a very sincere thanks to all the riders and helper who helped make this possible.
Particularly Harry Jackson and Steve Beccini - two great coachs who generously donated their time and only accepting expenses.
Jeff B. for his support and encouragement
Malcolm Holmes and Chris Jones for sticking the posters up in the respective venues
And especially to the following riders who rode every Stage: Alex Whale, Andy Davis, Olav Martin-Giles, Arthur Kelly, Paul Stewart and the Old Codger on the yellow bike- his name escapes me. [editor: would this be 'Hoy Legs' Hewson by any chance?]
Thanks to everyone who helped make this exercise happen I would like to remind you that from small ideas big ones grow.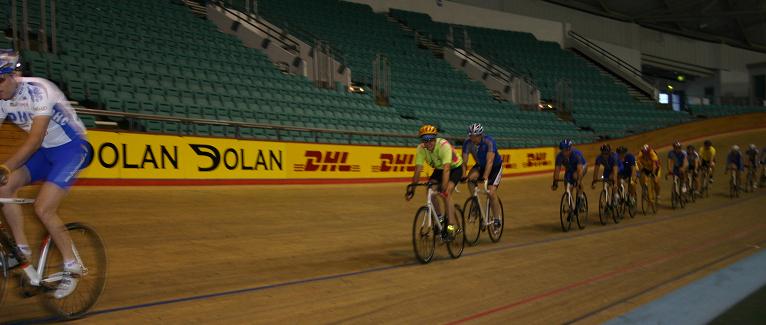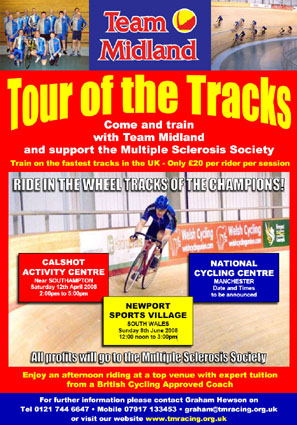 ---
Last Update 10 September 2008